In this issue…
MULTISPORT DOME
Winter Children's Sport Programs: Open for Registration
TENNIS
Winter Tennis Programs: Registration Now Open!
Tennis Round Robins Every Sunday: Register Week by Week
RENT A COURT!
Rent A Sport Court This Holiday Season (Tennis, Volleyball, Basketball, Soccer)
YOGA STUDIO
36 classes per week: Hot and Ambient Studio Rooms!
THE BRIDGE PUBLIC HOUSE (RESTAURANT)
Book A Party Space This Holiday Season!
GENERAL UPDATES
RSC in the News on CFRA: featuring Nicki Bridgland
Exciting News: New Beach Volleyball Spring 2020
Live Music Series: Kimberly Sunstrum on Friday December 6th
Family Paint Afternoon: Reindeer Shades
MULTISPORT DOME
Winter Children's Sport Programs: Open for Registration
Our Winter registration is now live for Children's Programs starting in January! Register your child for one of our Afterschool Multisport programs, to provide them a fun, warm, safe way to be active during these colder months!
Afterschool Sports Club: Active games and sports are the focus for this afterschool program. Soccer, Basketball, Capture the Flag, Volleyball, Dodgeball and MORE! Basic introduction to rules, skills and tips but most importantly – Gametime!
Basketball: Join RSC for an afterschool session of shooting hoops! Skills, drills, mini games and scrimmages to be had by all!
Soccer: Skills, Drills and Mini games for half of the hour-long session.
TENNIS
Winter Tennis Programs: Registration Now Open!
Looking for something fun to do during the cold frigid Winter months – January, February, March? Whether you're just learning tennis, or want to get better we've got you covered, to join a Winter program today! 🎾
Tennis Round Robins Every Sunday: Register Week by Week!
Meet new people while playing tennis, we have the perfect combination to end off the weekend! We host round robins every Sundays from 4:00pm to 6:00pm! or give us a call at 613.749.6126! We hope to see you all there!
Rent A Court!
Rent A Sport Court This Holiday Season (Tennis, Volleyball, Basketball, Soccer)! 
Looking for something to do with your family and friends this holiday? Our multi-sport and tennis domes have courts for you to rent! Whether it's tennis, basketball, soccer, volleyball or just a space to run around we've got you covered.
Click here for more information, or give us a call at 613.749.6126. We would love to see you this holiday season!
YOGA STUDIO
36 classes per week: Hot and Ambient Yoga Studio Rooms!
In case you missed it, our new yoga schedule is filled with a whole lot of NEW!
New classes, times, and instructors! 
Click here to register for a class or buy a Yoga Class Pack today (also makes the perfect gift – to yourself or another)!
THE BRIDGE PUBLIC HOUSE (RESTAURANT)
Book A Party Space This Holiday Season!
It's starting to getting festive here At The Bridge Public House. Book your holiday party with us today – work, family or with friends!
For more information please call: 613.741.9219
Or email us at events@thebridgepublichouse.com


GENERAL UPDATES
RSC in the News on CFRA: featuring Nicki Bridgland

Nicki Bridgland CEO & Founder of the Rideau Sports Centre was recently interviewed on 580 CFRA by Dahila Kurtz. Nicki talks about RSC, her business philosophies, and how to stay balanced during the "crazy busy time" of a start-up business. Have a listen, by !

Exciting News: New Beach Volleyball Spring 2020
Over the last few weeks at RSC, you may have seen a giant sandbox being built, and wondered "what's going on"? Great news, Summer 2020 RSC will be offering Beach Volleyball for everyone to enjoy!
Live Music Series
Join us FRIDAYS as we offer FREE Live Music every Friday Night 7:00-9:00pm in The Bridge Public House restaurant.  There's nothing better than listening to local Ottawa musicians, while eating delicious food, and enjoying great company!
Friday December 6th 7:00-9:30pm: Kimberly Sunstrum

Kimberly Sunstrum is a heart-stopping performer. Her song writing is deep, evocative, and powerful and her music delightfully impossible to pin down. It's an inspired blend of the grooves she listened to growing up in Sub-Saharan Africa and Canada. She strings together sounds from South African pop hits, classic R&B, old-time country and 70's Motown power bops and spins them all in to her own unique melodies. She writes about the world as she sees it with a powerful poetry and grace. Mixed-race identity, feminism, love, family, and queerness are reflections of her life and constant themes in her songs. Her enigmatic passion pours out of her with every single performance leaving audiences feeling energized and excited. Sunstrum released her latest single, Confessions in August 2018. It's a follow-up from her 2017 album The Kid, The Wall, and The Box and the title single to her upcoming album.
Click here to sample Kimberly's music!
Family Paint Afternoon: Reindeer Shades
Sunday December 8 | 1:00pm – 3:00pm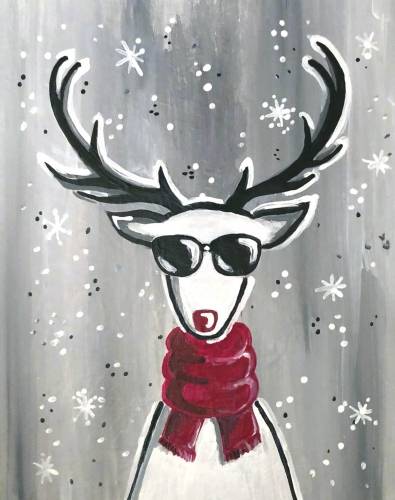 Get into the holiday festivities and start decorating early with this painting of a cool reindeer. 
Get creative with your children, all painting supplies will be included. Stop on by earlier to have brunch at the Bridge Public House before spending your afternoon painting.
CALENDAR OF EVENTS
Monday, December 2
YOGA:
Hatha (Gentle) | 9:45am-10:45am
Baby n' Me Yoga | 11:15am-12:15pm
Bikram | 4:30pm-6:00pm
Vinyasa | 6:30pm-8:00pm
RESTAURANT:
Open 4:00pm-10:00pm *2 for 1 Pizza Special
---
Tuesday, December 3
YOGA:
Hatha | 9:45am-10:45am
Bikram Express | 12:00pm-1:00pm
Happy Hips | 4:30pm-5:30pm
Bikram | 5:30pm-7:00pm
Bikram | 7:30pm-9:00pm
Yin | 8:00pm-9:00pm
FITNESS:
Simplified Tai Chi II 24 Steps – 2:00pm-3:00pm (Click here to sign up)
Bootcamp with Stefan 12:00-12:45pm
Click here to sign up)
RESTAURANT:
Open 4:00pm-10:00pm t-t-taco Tuesday Special
PAINT NITE:
7:00pm-9:00pm (Click here to purchase your tickets)
---
Wednesday, December 4
YOGA:
Gentle Hatha | 9:45am-10:45am
Hatha | 12:15pm-1:00pm
Bikram | 4:30pm-6:00pm
Hatha Flow | 6:00pm-7:00pm
Bikram | 6:30pm-8:00pm
FITNESS:
Core Fitness 55+ 10:45am
Body Tune-Up 12:00pm-12:45pm
HIIT 6:00pm-7:00pm
RESTAURANT: Open for Lunch and Dinner
11:30am-10:00pm *Steak & Wine Special
---
Thursday, December 5
YOGA:
Zen 55+ | 9:45am-10:45am
Bikram | 12:00pm-1:30pm
Hot Series | 5:30pm-7:00pm
Power | 6:00pm-7:00pm
Bikram | 7:30pm-9:00pm
Fitness:
Simplified Tai Chi I 2:00-3:00pm (Click here to register)
Bootcamp with Stefan 12:00-12:45pm (Click here to register)
RESTAURANT: Open for Lunch and Dinner:
11:30am-10:00pm *BBQ & Beer Special
Friday, December 6
YOGA:
Hatha | 9:45am-11:00am
Bikram | 12:00pm-1:30pm
Bikram | 4:00pm-5:30pm
Bikram | 6:00pm-7:30pm
MULTI-SPORT:
Youth Sports Club 6:30pm-8:30pm Ages 10-15 yrs *No registration required
35+ Volleyball Mingler 6:30pm-8:30pm $10.00 *No registration required
Drop-In Volleyball All Ages 8:30pm-10:30pm $10.00 *No registration required
BRIDGE GROUP:
10:00am-2:00pm Come to play Bridge and stay for lunch
RESTAURANT HOURS: Open for Lunch and Dinner
11:30am-10:00pm
Live Music Series: Kimberely Sunstrum 7:00pm – 9:30pm
---
Saturday, December 7
YOGA:
Hatha Intermediate | 8:45am-9:45am
Hot Series | 9:00am-10:45am
Hatha Gentle | 10:30am-11:30am
Bikram | 4:30pm-6:00pm
RESTAURANT:
Open for Brunch 10:00am-3:00pm
---
Sunday, December 8
YOGA:
Power | 9:00am-10:00am
Bikram | 9:00am-10:30am
Hatha Gentle | 10:30am-11:30am
Bikram | 2:30pm-4:00pm
Power | 4:00pm-5:00pm
Bikram | 4:30pm-6:00pm
TENNIS:
Sunday Round Robin 4:00pm-6:00pm (Click here to register)
MULTI-SPORT:
All Sports Drop-In: Basketball, Volleyball, Futsal 4:00pm-6:00pm $10.00 *No registration required
Drop-In Volleyball All Ages 6:30pm-8:30pm $10.00 *No registration required
RESTAURANT:
Open for Brunch 10:00am-3:00pm
FAMILY PAINT AFTERNOON:
1:00-3:00pm ( Click here to purchase your tickets) Join your kids to paint a masterpiece