In this issue…
Winter I Program Registration
WINTER REGISTRATION
Winter I Registrations Are Now Live: Here's How You Register on our New MindBody System!
TENNIS
Updated Tennis Court Rates: Effective January 1, 2020
CHILDREN'S HOLIDAY CAMPS
Winter Holiday Camps at RSC: Register NOW!
YOGA STUDIO
New Pilates Program: Try it Out!
THE BRIDGE PUBLIC HOUSE (RESTAURANT)
Brunch at The Bridge Public House: Every Saturday and Sunday!
GENERAL UPDATES
RSC Gardens Come To Life: Thank You Diana Smith!
Alpenblick Farms Products For Sale at RSC Every Saturday: Come for Grass-Finished & Grass Fed Meats on November 30th
Live Music Series: Luca Bova on Friday November 29th
Family Paint Afternoon: SHOOT IT'S COLD
WINTER I REGISTRATION
Winter I Registrations are now live: Here's How you Register on our new MindBody system!
In an effort to bring together all services within one registration software, we are holding out Winter I registration through MindBody This will mean creating a new account (which will have to be done whether you are doing the online, in person or over the phone). After clicking the "Registration Open NOW!" button, create a new profile by following the steps on the right hand side of the screen. You will then find all Tennis programs under "Enrollments" located along the top navigational bar. Feel free to navigate the categories and types of programs with the drop-down menu under each main tab as well.
Be sure to complete all information for your profile!
If you have any questions or issues with this new software, please contact our Program Manager; Trevor Polk at trevor@rideausportscentre.com.
TENNIS
Updated Tennis Court Rates: Effective January 1, 2020
For the first time in 3 years we are increasing our indoor tennis court rates. We want to keep rates divisible by 4 (with tax included) to encourage group play. These rates will be effective as of January 1st, 2020. If you would like to take advantage of our current 2019 rates for future block bookings now is the time! We want to thank all of our tennis players for making our indoor courts a success, please see below for the updated rates. (all prices subject to HST).
Click here to purchase a block booking
CHILDREN'S HOLIDAY CAMPS
Winter Holiday Camps at RSC: Register NOW!
Click here to register your child today for our Winter Holiday Camps.
YOGA STUDIO
New Pilates Program: Try it out! 
We're extremely excited to announce that we will be launching a new Pilates program this Winter (starting in January)!  Come on in and try a FREE sample class Thursday December 5 – to see if it's for you!
THE BRIDGE PUBLIC HOUSE (RESTAURANT)
Brunch at The Bridge Public House: Every Saturday and Sunday!
Join us for a BRIDGE-TASTIC brunch every weekend from 10:00am – 3:00pm.
Click here to view our brunch menu including $5 Mimosas!
GENERAL UPDATES
RSC Gardens Come to Life: Thank you Diana Smith!
After a long, very cool and rainy spring, summer was upon us and so was the transformation of the RSC grounds.  Diana, our resident gardener, began the post renovation rejuvenation of the perennial beds and walkways with the addition of several cedars, flowering shrubs and perennials.  Large annual planters placed around the upper and lower decks added colour and enhanced the ambiance of the outdoor spaces. Field stones salvaged from the fireplace after the 2001 fire, were strategically placed to create borders for traffic flow, and did a good job of keeping bikes and foot traffic out of the flower beds.  This fall Diana painted the lattice below the main floor decks to create a uniform background to showcase the gardens and the white ballistars. Looking ahead to Summer 2020, Diana plans to add some colour to the pool area and revitalize the large perennial bed along the east walkway.
See below for before and after pictures!

Alpenblick Farms Visits RSC Every Saturday: Come for Grass-Finished & Grass Fed Meats on November 30th 
Benefits of Grass Fed Meat, and Grass Finished Meat
Less Fat – Fewer Calories
Young grass-fed animals – tender meat – rich in flavor
More beta-carotene – lower risk of cardiovascular disease and cancer
When animals have access to green pasture their fatty acids are in balance
High levels of Omega-3 fatty acids in free-range, grass fed animals (feedlot beef, goat and lamb have high levels of omega-6, could be a major cause of cancer)
Robert and Petra from Alpenblick Farms are selling their goods in RSC Front lobby every Saturday 10:00am – 2:00pm. For more information, check out their website www.alpenblickfarms.ca
Live Music Series
Join us FRIDAYS as we offer FREE Live Music every Friday Night 7:00-9:00pm in The Bridge Public House restaurant.  There's nothing better than listening to local Ottawa musicians, while eating delicious food, and enjoying great company!
Friday November 29th 7:00-9:30pm: Luca Bova
Music in the heart, a strong passion for live performance and absolute love for the pure simplicity of natural sounds. A mix of rock and pop cover songs, where the energy of rock n roll meets the soft romance of rock ballads. From the oldies to today's hits, your favorite songs, unplugged.
Click here to listen to Luca's music
Family Paint Afternoon: S"HOOT" IT'S COLD
Sunday December 1 | 1:00pm – 3:00pm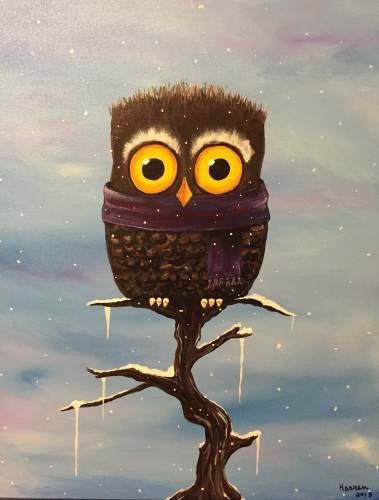 Ring in the holiday month with your family by painting this cute owl that's representing how we are all feeling this winter!
CALENDAR OF EVENTS
Monday, November 25
YOGA:
Hatha (Gentle) | 9:45am-10:45am
Baby n' Me Yoga | 11:15am-12:15pm
Bikram | 4:30pm-6:00pm
Vinyasa | 6:30pm-8:00pm
RESTAURANT:
Open 4:00pm-10:00pm *2 for 1 Pizza Special
---
Tuesday, November 26
YOGA:
Hatha | 9:45am-10:45am
Bikram Express | 12:00pm-1:00pm
Happy Hips | 4:30pm-5:30pm
Bikram | 5:30pm-7:00pm
Bikram | 7:30pm-9:00pm
Yin | 8:00pm-9:00pm
FITNESS:
Simplified Tai Chi II 24 Steps – 2:00pm-3:00pm ( Click here to sign up )
Bootcamp with Stefan 12:00-12:45pm
( Click Here  To Sign Up )
RESTAURANT:
Open 4:00pm-10:00pm t-t-taco Tuesday Special
PAINT NITE:
7:00pm-9:00pm ( Click here  to purchase your tickets )
---
Wednesday, November 27
YOGA:
Gentle Hatha | 9:45am-10:45am
Hatha | 12:15pm-1:00pm
Bikram | 4:30pm-6:00pm
Hatha Flow | 6:00pm-7:00pm
Bikram | 6:30pm-8:00pm
FITNESS:
Core Fitness 55+ 10:45am
Body Tune-Up 12:00pm-12:45pm
HIIT 6:00pm-7:00pm
RESTAURANT: Open for Lunch and Dinner
11:30am-10:00pm *Steak & Wine Special
---
Thursday, November 28
YOGA:
Zen 55+ | 9:45am-10:45am
Bikram | 12:00pm-1:30pm
Hot Series | 5:30pm-7:00pm
Power | 6:00pm-7:00pm
Bikram | 7:30pm-9:00pm
Fitness:
Simplified Tai Chi I 2:00-3:00pm ( Click here to Register )
Bootcamp with Stefan 12:00-12:45pm ( Click Here  To Register )
RESTAURANT: Open for Lunch and Dinner:
11:30am-10:00pm *BBQ & Beer Special
---
Friday, November 29
YOGA:
Hatha | 9:45am-11:00am
Bikram | 12:00pm-1:30pm
Bikram | 4:00pm-5:30pm
Bikram | 6:00pm-7:30pm
MULTI-SPORT:
Youth Sports Club 6:30pm-8:30pm Ages 10-15 yrs *No registration required
35+ Volleyball Mingler 6:30pm-8:30pm $10.00 *No registration required
Drop-In Volleyball All Ages 8:30pm-10:30pm $10.00 *No registration required
BRIDGE GROUP:
10:00am-2:00pm Come to play Bridge and stay for lunch
RESTAURANT HOURS: Open for Lunch and Dinner
11:30am-10:00pm
Live Music Series: Luca Bova 7:00pm – 9:30pm
---
Saturday, November 30
YOGA:
Hatha Intermediate | 8:45am-9:45am
Hot Series | 9:00am-10:45am
Hatha Gentle | 10:30am-11:30am
Bikram | 4:30pm-6:00pm
RESTAURANT:
Open for Brunch 10:00am-3:00pm
---
Sunday, December 1
YOGA:
Power | 9:00am-10:00am
Bikram | 9:00am-10:30am
Hatha Gentle | 10:30am-11:30am
Bikram | 2:30pm-4:00pm
Power | 4:00pm-5:00pm
Bikram | 4:30pm-6:00pm
TENNIS:
Sunday Round Robin 4:00pm-6:00pm ( Click Here  to register )
MULTI-SPORT:
All Sports Drop-In: Basketball, Volleyball, Futsal 4:00pm-6:00pm $10.00 *No registration required
Drop-In Volleyball All Ages 6:30pm-8:30pm $10.00 *No registration required
RESTAURANT:
Open for Brunch 10:00am-3:00pm
FAMILY PAINT AFTERNOON:
1:00-3:00pm ( Click here  to purchase your tickets ) Join your kids to paint a masterpiece